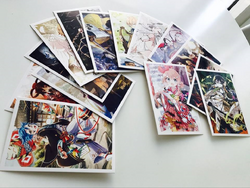 Year 2017, make a confession of your favorite daemon!
Hello, dear Spirit Agents!
2017 is just around the corner!
Spirit Agents Otogi is very grateful for your support over the past year!
We are organizing a "Confession of your favorite daemon" event, and all participants shall receive invokers and official limited edition postcards as rewards!

Participation Rules
Write a paragraph to confess to your daemon or content relating to the game, attach a photo of the daemon, and post it on your Facebook or twitter home page.
Before
12/31 23:59:59.
- Get 20 Likes or share on Facebook
OR
- Get 20 Likes or retweets on Twitter
OR
- Get 20 Likes or retweets on Instagram

and you shall receive the reward!

Reward
- Invoker x1
- Official limited edition postcards x3 (May contain daemons that have not been released!)
- Only once per person

How to receive the reward?
After achieving the reward conditions (Like or retweet 20 times),
in the game, go to More-Settings-Customer Support to contact us,
send us your Facebook home page or twitter or instagram address, screenshot of your reward achievement, and your mailing address for the postcards & Postal code & mobile phone number.
We will distribute the reward to you in the game, and send the postcards to your stated address as soon as possible!