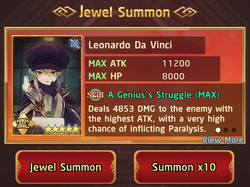 Jewel Summon Notes:
Summon once in exchange for 300 jewels.
Bulk Summon for Ten in exchange for 2500 jewels.
Invokers can also be used to summon once.
You can also summon once for free everyday during 12 pm-2 pm.
Story Daemons are added to the pool once they are obtained from Story Mode.  Daemons below with their names bolded are Story Daemons.
*This daemon was a limited time jewel summon
Ad blocker interference detected!
Wikia is a free-to-use site that makes money from advertising. We have a modified experience for viewers using ad blockers

Wikia is not accessible if you've made further modifications. Remove the custom ad blocker rule(s) and the page will load as expected.